The Dark Knight Rises-(PG-13)-(Blu-Ray worthy)
The Dark Knight rises is the third Batman movie in the Nolan trilogy. It has been so anticipated because of the reputation it earned itself. Batman Begins shocked everyone, because every previous Batman incarnation was mediocre at best. People, for the first time, took Batman seriously. Then came the Dark Knight. Its gritty tone and Heath Ledger's amazing performance gained it praise beyond Batman Begins. Then here comes the Dark Knight Rises, which has extremely high expectations to live up to. Was this movie able to close the trilogy properly?
The three key points to this movie are the characters, the pace, and the visuals. The actors are all at their finest. Christian Bale truly embodies Batman and Bruce Wayne in this film, more than he did in the others. Anne Hathaway as Catwoman was spectacular. She owned her role, pulling off Catwoman with ease. Tom Hardy delivers a powerful performance as Bane, crafting the character into being aggressive, intimidating, and violently unpredictable. Joseph Gordon-Levitt is solid while playing the role of John Blake. Honestly, I could go at this all day, praising every actor to grace this movie. Everybody nailed their character. Who really stood out to me, however, was Michael Caine as Alfred. He did a fantastic job in this movie, delivering an emotional performance that was truly touching.
So the characters worked. But how about the plot? The plot takes a long time to set itself up. Characters are slowly being formed, explained, and given purpose. The build up to the beginning of the large conflict is slow. This movie as a whole moves at a slow pace. But there is a moment between Alfred and Bruce that sets the movie into motion. Once the main conflict is presented, things still take time to happen.  There is no rushing or easy fixes. This movie has a slow pace that worked for its tone. At times, things seemed hopeless. This movie moves slowly, but for the sake of giving itself some time to breath. There is so much going on, and Nolan does a great job at controlling the pace and fitting everything in. The grand scale of everything that was happening was unlike anything we have seen in a movie yet. The fact that a clear, purposeful story was told, on this massive of a scale, is an achievement in itself. I don't bounce this word around very often, but I think that it is fair to say that this movie is epic.
The visuals, of course, are above excellence. Everything looked great. That's all I need to say. Along with Hans Zimmer's score, moments in this film were strikingly powerful. Dramatic scenes paired with Zimmer's score created a combination as fit as peanut butter to jelly. Nolan truly has outdone himself. Everybody brought their A game to this film. The acting, the music, the visuals, the storytelling, the characters, everything was the best of the best. There are some truly powerful scenes in this film that stick out, and those scenes alone are like giant pieces of Filet. The rest of the movie between those scenes is a nice mushroom sauce, just as good as the Filet, making it even better, with more flavor.
Over all, if you haven't guessed it already, the Dark Knight Rises is a Filet. Hats off to Nolan, who has successfully completed the Batman trilogy. May he take a long deserved rest.
The trailer has not been posted due to the fact that while it doesn't give away much, it may break some suspense as you watch the film if you were to previously see key moments from the trailer.
________________________________________________________________
The Amazing Spiderman-(PG-13)-(Blu-Ray worthy)
This movie retells the Spiderman origin story. After the failure that was Spiderman 3, it was decided that the Spidey series be rebooted. The three key points to this movie are the casting, (because this is a reboot), plot, and visuals. Andrew Garfield's Spiderman was better than Tobey McGuire's. Yes, I did just say that. Andrew pulled off the quirkiness, the humor, and the character. He owned Spiderman and Peter Parker, playing both parts of his role fantastically. You like his character right off the bat, because he is simply a likable guy. His chemistry with Emma Stone, who plays Gwen Stacy, was 100% real on screen. Emma Stone did a fantastic job as Gwen Stacy. Aunt May and Uncle Ben were great characters, playing off of each other very well. The Lizard/Dr. Connors was well acted as well. The casting was definitely a success. Lizard's character was underwhelming, however. Connors resembled the typical scientist gone bad, and his motivation wasn't very interesting. He was acted fine, he just wasn't a very in depth villain. But that's fine. This was Spiderman's movie, about Spiderman and his origin. It's about him. Lizard was simply his first test. Green Goblin is going to be coming later on. The makers first want you to make you to relate to Spidey before they make him face a hugely popular villain. The same was done with the Nolan Batman trilogy. The Joker was brought out AFTER Batman's origin was explained while he faced Ra's al Ghul. But all that matters is that Spiderman is likable. We have our hero.
The plot is what many critics complained about, and so I had to be very observant of it. This movie did move a bit slowly, but I personally didn't mind. It took a while to develop Peter before he put on the Spiderman suit. I was invested in his Peter side, and so I didn't mind at all. The drama going on in his personal life was very interesting. I let the story be told without asking when the movie would start. Many people complained that plot lines were dropped. For example, Peter went to Connors to find out the truth about his parents. Later on, it seemed that he was no longer concerned about finding anything else out. The truth is, Peter has his priorities set straight. He knows responsibility. He has to defeat the Lizard before dealing with personal qualms. I would give more examples of "dropped plot lines," but I'm always spoiler free. So the plot did move at a slow pace, but it allowed for deeper story telling. This movie went in depth about how Spiderman came to be, elaborating and expanding on what we already knew.
Lastly, how were the visuals? Everything looked great. There wasn't a whole ton of CGI, aside from the Lizard, but everything had a lot of polish. Everything in this film was slick and nice to look at. I didn't see this movie in 3D, but I definitely will when it comes out on Blu-Ray. The swinging scenes would look magnificent in 3D. A lot of critics are really praising the look of the Lizard, but I wasn't overly impressed. The Lizard looked fantastic, but he didn't blow my mind like it did for a lot of other people. So the movie did look great, no doubt about it. And I want to also mention the music. It fit the tone of the movie. It worked.
Over all, this Spiderman is a T-Bone. I enjoyed it a lot, and it is my favorite Spiderman film. It hooked me to the character of Spiderman, which is all it really needed to do. It was a really good film about how Spiderman came to be. I recommend it for sure. Go have a good time at the theater. You'll get a couple of little kids coming for Schpidoemahn and teenage girls coming just for Garfield, but you'll ignore them and enjoy the movie. It was amazing. (Sorry, I couldn't help myself)
_______________________________
The Avengers-(PG-13)-(Blu-Ray worthy)
Don't worry everybody. No spoilers here. So sit back, relax, and enjoy my spoiler free breakdown. This is the Avengers.
[cue epic music]
The two key points to this highly anticipated movie are characters and plot. The characters are everything we wanted them to be and more. They each get their fair share of screen time. Are you a fan of Iron Man? Don't fret, lost cub. There is plenty of the Iron Man. What about Captain America? Be calm, young buck. He is present. All of these heroes kick some ass. Everybody gets their fair share of moments, lines, and scenes. If I had to choose, I would say that Hawkeye got the short end of the stick. But he still contributed and had some great moments. Renner defines Hawkeye very well, and he nails the character's attitude perfectly. What about Black Widow? Did she hold her own? Yes, she did. In fact, she was very involved in this movie, with a lot of screen time. I liked her in this movie more than I did in Iron Man 2. Robert Downey Jr. was remarkable as Tony Stark, which is no surprise. Tony Stark is just the cockier version of himself. He plays the character in real life, which is why he pulls it off. Thor is shown kicking some ass more than he did in his own movie, and he uses some lightning, which is always cool. Captain America stayed true to his soldierish, leader personality, but I still think he's lame. When he didn't have his shield or a weapon at one point, he grabbed a piece of rubble and chucked it at the bad guy. It was hilarious to me. He's chock full of corny lines, being from WWII. I'm not complaining, I just don't like his character. The agents in the movie, including Nick Fury, each had their moments. And, of course, I have to talk about the Hulk. He stole the show, with the best lines, moments, and scenes. Ruffalo played him better than Norton did. Yep, he pulled it off. The Hulk even looks like Ruffalo. And now the bad guy, Loki. He was even more sinister than he was in Thor, and he gets his hands dirtier than before. All of these characters get their spotlight moments, and subtle things happen that pay homage to their original movies. The fact is, these big egos pulled it off together. Very well. Nerds will have their share of geek, no doubt about it.
Next up is the plot. How did it flow? Very well. The beginning part of the movie shows your favorite characters getting recruited. At first, it seems almost surreal. These guys were actually in a movie together. Then, once the team is assembled, the movie takes off and there are multiple conflicts, etc. There were no parts that dragged or went too quickly. I must say, though. The end of the movie was nuts. You see how every Avenger is critical to the team. I wish I could elaborate more, but I am a spoiler-free type of guy. There was also a ton of humor. I found myself laughing, and at times, the whole theater burst into laughter. For an action movie, it had some nicely pulled off humor. Everyone gets their time in the spotlight, everybody kicks some ass, and everyone contributes a dish to the dinner table. The Avengers is a Filet. We see our characters interact, and there are plenty of memorable scenes and action-packed moments. Joss Whedon meshed these personalities together and made a well-composed movie. I couldn't have asked for more. The only thing that wasn't explained well was how Thor came to Earth. It is discussed in Thor that there are other ways to travel rather than the bridge, but it isn't clearly defined here for those who cannot fill in the blanks. But that's a passable thing. The Avengers was awesome. It looked great, sounded great, and I'm sure it tasted great too. I didn't have an opportunity to lick the screen on my way out of the theater.
Note: I saw it in 3d, and while it didn't detract from the experience in any way, it didn't really enhance it either. No need for 3d with this one.
_______________________________________________________________
Transformers: Dark of the Moon (PG-13) - (Blu-Ray worthy)
Now I know why this nation is in debt! Michael Bay took all of the nation's money, used it on these visual effects, and vwala! We are in a debt crisis! This all makes sense now! Before I start exciting about my new-found discovery, I have to get to my review. The last movie in the Transformers trilogy is about the Autobots and Decepticons, both racing to reach a ship on the moon. Once the ship is recovered by either side, war breaks loose on Earth between the Autobots and Deceptions, and the humans are in the middle of it. Of course, you see this through Sam Witwickey's eyes. The three key points to this finale are visuals, action, and story. The visuals of this movie has put out country in debt. There are wild explosions and robots and killing and fire and ships that it is overwhelming. Everything looked spectacular, and Blu-Ray 3-D would compliment this movie like butter complements bread. If you are worried about it having underachieving visuals, don't fear. It looked amazing. If you are worried about it being an animated war-fest, there's where you should be concerned.
Everything is animated, basically. I can only be interested in machine parts and metal for so long. The action was there. It didn't impress me or make me say wow, except for the collapsing building scene. Explosions and guns and rockets are nothing new. If you want to see mindless action, pick up this movie. Action is all it is. I must admit, by the end of the movie, I was brain-dead and thankful that it was over. The action was loud, constant, and mindless. It was mind-numbing. It's cool for a little, but then it just gets annoying and purposeless. Lastly is the story…there is none. Again, the storytelling was weak, and lots of the plot was pointless. I enjoy long movies. I have never complained that a movie was too long. This is the first time that I'm saying that it was too long. The two hours and a half could have been one hour and a half. The plot before the action gets you almost hating Sam. He acts like he is hyped up on caffeine, which isn't a very attractive trait. The whole story in the first half was just added to add….ready?…emotional substance. By adding a dramatic back-story, I guess the movie can't be classified as a mindless action movie. It was, though, because that's what it is. This movie is a Porkchop. I was thankful that it ended. Michael Bay should have just stopped after the first Transformers. It could have saved my eyes, my ears, my mind, and the economy.
Interesting facts: The Camaro that resembled Bumblebee was hit by a police car that was responding to a bomb alert.
Buzz Aldrin makes an appearance in the movie.
532 cars were destroyed in the making of this film.
_______________________________________________________________________________________
Captain America: The First Avenger-(PG-13)-(Blu-Ray worthy)
The trailer for this movie totally 100% turned me off. It spoke to me, actually. It said, "Don't see this." Well, my on conscience overpowered the trailer. I decided to give it a chance. Plus, with The Avengers coming out in 2012 featuring Thor, Iron Man, Captain America, and the rest of the deal, I realized that seeing this movie would be wise. This flick is about Steve Rogers, a man who is determined to serve in the Army, but he is too small and has too many health issues. He isn't as big as the other soldiers. His best friend is a soldier, and soldiers are falling every day. He has his mind set on applying for the army. Though he isn't built, a scientist decides to enlist him and inject him with a serum that will increase cell development, grow muscles, etc. Basically Steve Rogers becomes cut and strong, thus becoming Captain America. He becomes an American symbol and it put against the bad guy, Red Skull, and he finds a girl he is interested in who works with the army. So, you have your hero, you have your villain, you have your best friend, and you have your love interest. How did it turn out? The three key points to this movie are characters/acting, action, and storyline. The characters are well acted, but very, very cliched. Captain America is the only character with substance. He has a huge heart, and the things he does are amazing and noble. He is a true hero. The rest of the cast is cliched. The tough general, the wimpy scientist, the love-interest agent, all of it was cliched. Nothing new was added to the film industry but a shield. This movie could have been the story of a buffed up guy – a shield, this making the movie a standard action movie. Without putting a costume on Steve Rogers, it could have been any other cliche WWII movie. The characters were played well, but they were nearly cardboard. My personal favorite was Howard Stark, Tony Stark's genius father. That was a great tie-in to the superhero universe, and will likely lead to a friendship in The Avengers.
The action was cool at times. That's it. The little action given was cool. His shield/gun action was new and fresh. I wasn't impressed, but entertained. There actually isn't much combat involved. Lastly, the story brings you back to an old era, whereas most movies take place in old New York. The story could have been expanded with the whole WWII situation, but there were no risks taken. I was thinking, what if Hitler got involved? Maybe joined with Captain America for a scene? Or made some cameo? They could have expanded the movie's cliched plot, but sadly, this flick colors inside of the lines. Still, the ending is a great and surprising one. Plus, what really got on my nerves was how unrealistic some parts were. Walking in top of a train? Fighting on top of a jet? A submarine appearing out of nowhere? Sheesh. I know it's supposed to be fictional, but I expected to see a dinosaur pop up on the screen. Overall, because this movie stayed within boundaries, was very cliched, and wasn't very enjoyable at parts, it is a Porkchop. You won't mind getting up to get a refill or use the bathroom. It doesn't keep your attention. I would rent this just because Captain America will be a character in The Avengers. If you could care less, skip this one and save some money. I warned you.
Interesting Facts: Wolverine and Magneto were originally supposed to have cameos in this movie.
Chris Evans did not have a double to make him smaller. He was actually digitally made smaller.
Adolf Hitler is misspelled at the end of the credits.
There is a clip at the end of the credits about The Avengers
____________________________________________________________________________________________
X-Men: First Class-(PG-13)-(Blue-Ray worthy)
This movie received AMAZING reviews. The reviews described it as bind-blowing and the best of the series, but I beg to differ. I've never been a huge X-Men fan, but I understand the history and story of the main characters. This movie is a prequel to the first X-Men movie, and it explains the back stories of Professor X and Magneto. Once that is established, other mutants and heroes and villains are introduced to the story, some new to the series, some very famous. Hugh Jackman makes a hilarious 5 second Wolverine cameo that will have you dying on the floor with laughter.The three key points to this prequel are acting, action, and story. The acting was all over the place at times. Magneto's character was great, except when he was a child, and Xavier's was a bit corny at times, placing his two fingers on his temple at the most random times. Also, the whole relationship between Beast and Mystique led nowhere. It was very awkward and didn't contribute much to the plot. It only contributed a corny line at the end of the movie. The acting wasn't polished to perfection, but good enough to be taken seriously. The action was well filmed and well conducted, but there was no WOW-factor. The action in Green Hornet was much better to be honest. Kato vision surpasses the action offered in this movie.
It didn't live up to the action offered in X3 and Wolverine. Don't expect eye-popping and unbelievable fight scenes. Here's what the movie's strong point was: The story. The story was so well tied into the Cuban Missile Crisis and Cold War that if I opened a history book to the Cold War and saw pictures of Professor X, I would believe it. Maybe this is what turned on the critics. The story was very interesting. All of the mutants had a different, interesting personality and powers. I didn't feel that the director showed the full potential of the character's abilities, only a bit of each. The movie left me wanting more, and not because I was hooked, but because there was so little offered. Was this movie the amazing prequel like its been made out to be? No. Overrated? Yes. This movie was a Porkchop, and a small portion of it. It had an amazing message and it served as a prequel, but there was no wow factor. I wasn't blown away.
Taylor Lautner was was originally supposed to play Beast, but didn't because of issues with his schedule.
An X-Men specialist was on set.
_____________________________________________________________________
Thor-(PG-13)-(Blu-Ray worthy)
Being a fan of Greek mythology, I've never really dug deep into Norse mythology. I've known the names of Thor, Odin, and Loki, but that's about it. Good news: You'll get propelled into the world of Asgard with no trouble. This movie is about Thor, an arrogant, overly confident warrior. The day he is about to become king, he makes a stupid mistake…so stupid that his father, Odin, king of Asgard, banishes him to Earth. Thor is thrown into a new world, meeting an enthusiastic storm chaser/scientist. At the same time, Thor's mischievous brother Loki finds out a secret that redefines who he is, and becomes king. Thor is determined to take back his hammer, defend Earth, and overthrow his brother. The three key points to this movie are visuals, action, and story. The visuals were stunning. The Ice Giants looked so detailed and realistic, the sets and items were good looking, and Asgard was like nothing I've ever seen. The movie will please your eyes, and 3-D isn't needed. The only thing that bugged me about the visuals were the floating rocks in Asgard. When you first get introduced to Asgard, you see buildings and towers and skyscrapers, but among those structures, there are some random floating rocks that seemed like an excuse to make something fly. Other than that, the movie looked great, whether it was the set, the costumes, or the effects.
The action in this movie is impressive. Instead of gunfights and grenade, there are spears and hammers and fists. It was great to take a break from the typical high-tech weapons and guns. The action will keep you wanting more and more. The story is basic, yet not cliched, and you'll see what I mean when you watch the ending. The characters shine, and the acting is believable the whole way through. Still, I would really like to have seen more of Loki's abilities. Aside from that, know that what's great about this flick is that not once do you wish that you could hit the fast forward button. It can keep your attention the whole time, with action, spectacular visuals, some humor, and great scenes. Overall, this is a Filet. I suggest it to anyone looking for a successful, fulfilling film.
Interesting facts: Jim Carrey was considered for the role of Loki
The whole town was built from scratch
To prepare for playing Thor, Chris Hemsworth went on a diet and excercized a lot.
____________________________________________________________________________________________
X-Men Origins:Wolverine-(PG-13)-(Blu-Ray worthy)
I could never sit through the X-Men series before, and I never plan to. I've seen bits and pieces, but I couldn't into it. I have seen half of the third one, but that was it. I enjoyed what I saw, but not overly wowed…..but this one was different from the series. It is about Wolverine's origin, as explained in the title. Yes, it includes other mutants, but it focuses on Wolverine and his life. Without Storm and Juggernaut and Magneto it would be garbage, right? That's what I assumed, but Sabertooth, Cyclops, Gambit, "Weapon X" and other familiar mutants take part in the plot. This movie isn't too slow. Every sequence includes action, which was done really well. The 3 key points to it were storyline, effects/action, and characters. Thestoryline was made so professionally, with twists when you least expect them, varied scenes, and a clear display of Wolverine's personality. This movie starts from when Wolverine is a child, and he first discovers his powers with Victor, his older brother.(Sabertooth.) Then, it shows him serving in the military in many battles during the credits with his brother, which is one of my favorite points of the movie. During credits, the filmmakers usually slowly let the names fade in and out while showing shots of a city, like Devil, which annoys me. This, however, was a genius idea. The plot leaves off where the brothers are chosen to do Special Operations work with other mutants. After doing that for a while, Wolverine quits and gets a wife, where he settles in Canada as a lumberjack. Still, he is warned by his former employer that somebody is killing the old task force one by one. That is where the movie starts.
The storyline is very twisted and humorous, but I have to say……the director of this movie hates old people! You know what I mean if you've seen this flick. The effects of this movie were great. Slow motion bullets, slow motion helicopter slicing, slow motion car slicing, slow motion cane whacking,…..did I mention slow motion? Well, it was done well. The effects for every power and design was very bright and realistic. I like how the director didn't push it to the limit. He kept it to slow motion and explosions. It was very well done. The action in this movie was fantastic. I haven't seen anything like it. One part that I love is the part when a bullet is shot at Wade Wilson, and he slices it in half (in slow mo) and it hits the two guys behind him. Also, Zero, the Asian gun specialist, flies through the air (in slow mo) and shoots his guns, to everyone, reloading his mags in a way I cannot describe. There are so many more memorable action scenes, including a bar fight, but if you want to see them see this movie! The characters were old and new. Gambit, the gambler who escaped from the legendaryish island, is fancy with his cane, and is very laid back. Bob, who was once a tough super-strong mercenary, gains 1000 something pounds, which is a great laugh. Sabertooth is devious and menacing, not knowing what he'll do next. Wade Wilson never shuts up, and is great with his blades. John Wraith, (aka will.i.am) can shift from one location to another. Very cool. My point is, the characters are awesome and different. You are in for a ride that will leave you satisfied. Filet Mignon is what I spy.
Interesting facts: Agent Zero could also be called 'Maverick.'
Remy LeBauo (Gambit's real last name) means the handsome in French
In the beginning of the movie when Wolverine is a child, in his bed, there is a picture of a Wolverine on his wall.
In the African scene, young storm is in the crowd
The girl who changes to diamond is actually Emma Frost
___________________________________________________________________
Iron Man 2- (PG-13)-(Blu-Ray worthy)
Wow…..well I was dying to see this after watching the first movie, and I had really high expectations…..well i got just what I wanted. This movie was about a Russian named Ivan, also known as Whiplash, who holds a grudge over Iron Man…he tries to kill him, but is taken into custody. Still, he is broken out of jail by Hammer (forgot his first name) and Hammer wants Whiplash to make IronMan suits for him. At the same time, Iron Man's chest piece which is keeping him alive is starting to toxicate his blood. I don't want to give anything else away. But this movie had 3 key points: humor, action, and picture/sound. The humor in this movie was fresh, and Robert Downey Jr. promotes that. He can care less about anything and acts rude, in a funny way. He gets drunk in one scene, busts on a guy's eyepatch in another, and there is also a weapon called the X-wife. It is funny how Rhodey, Iron man's friend, tells a drone: "I'll handle this with the Xwife." So he shoots the rocket and it hits the drone, and bounces off his armor….when it was supposed to pretty much cause a nuke. Funny stuff. Without Robert in this movie, it would be Spiderman trash. The action in this movie was full of close calls, but becuase the movie is longer than the first, there is A BIT less action…but the good news is that instead of smaller action scenes every half hour, there are a few really big ones that are suspensful
. Some action is surprising: Rhodey vs. Iron Man, Whiplash walking onto a race track and demolishing cars, and there are some arguements over a bird. With key Iron Man suit functions and weapons, there are multiple moves that he uses. The suspense leading up to the action is worth it. And with picture and sound, it was ship-shape. Gosh, the visual was stunning and perfect.The picture was bright, and sharp too. Bullets and fire were made to be awesome, almost real. And with sound….oh baby….wow! Clanging metal and crashes were so clear to the point where you imagine that the action is in the theater. And there is a really good soundtrack too. In the beginning, there's some rock, and when Iron Man and Rhodey fight, Another One Bites the Dust by Queen plays. Very interesting. \Yummy yummy, T-Bone.
Interesting Facts: Mickey Rourke went to Russia to prepare for his role.
Two Rolls Royce Phantoms were used and destroyed in the film
____________________________________________________________________
The Dark Knight-(PG-13)- (Blu-Ray worthy)
Since  my 3rd idol is the Joker, I was thinking that I should review this movie. Plus, shredderdude recommended it. The movie is about Batman, who is thinking about resigning, and handing the position of Batman to another man, Harvey Dent. At the same time, The Joker roams Gotham, killing more people every day that Batman doesn't reveal his identity. The characters were well played. Batman was slick, light on his feet, and violent as ever.Still, his deep, grumbly voice ruins the voice acting a bit. In one part, the grumbling is so bad, it sounds like he's holding back a sneeze. Harvey Dent was a natural hero, who is suave and serious at the same time, along with the other charaters. Finally, the Joker was played perfectly by Heath Ledger(RIP). Heath made a hilarious and wacko villian. The Joker's emphasis on the way of talking is perfect, and he laughs at pain.
The acting, effects, and dialogue were top notch, and this movie will show another side to the Batman everyone knows. If you like vicious dogs, crazy villians, Battleship, Lamborghinis, Motorcycles, humor, good music, clowns, Two-Face's burnt head, diabolical schemes, amazing actors, and burning hospitals, this movie is for you. The dark lighting is  annoying but it fits an evil city. Harvey's coin and Batman's pride shows outstanding sybolism. The music is repetitive, but moving. Try the movie out, but if you don't see it on Blu-Ray, you're not missing out…normal DVD suits this flick finely. I spy a Filet.
Interesting Facts: Heath Ledger hid away in a motel room for 6 weeks to prepare for his role.
When The Joker claps in his jail cell, it wasn't scripted, but it was kept.
Heath Ledger insisted that during the interrogation scene, Christian Bale beat him as hard as he could to show the real feel of what was going on
The Joker's nurse badge in the hospital reads Matilda, named after his daughter.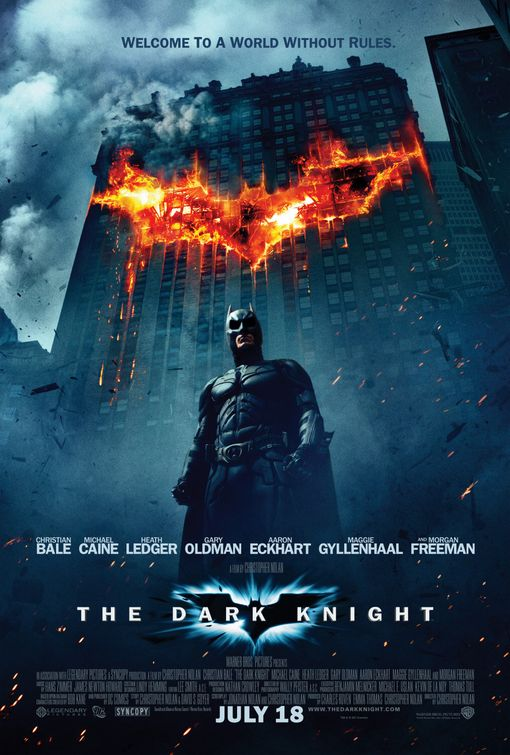 ____________________________________________________________________
Transformers, Rise of The Fallen-(PG-13)- (Blu-Ray worthy)
A sequal to the first, this amazing movie had no major flaws. Before the movies, Transformers were thought as corny little kid icons. With Shia La Beof, Megan Fox, guns, grenades,nice cars, great music,robots,killer action,laugh out loud humor, and eye popping effects, all that has changed. With Deceptacons chasing the main character Sam Wickwicky the whole movie, the clashing metal was a bit irrtating, but Green Day and Linkin Park songs in the movie, you want to listen to those talking scenes that have to be put in. If I had to choose which Transformers movie was better, I would definitely say the first. It had a storyline, was more realistic, family based, and natural. This one seemed very rushed and random. At one part Sam is in a museum….the next part he is on his butt in Egypt. It just didn't flow. Plus, it was half animated, which annoyed the heck out of me. The beginning jumped right into story, assuming you know the situation and characters. They don't introduce it all over again, which must have confused new viewers. With sequels, you HAVE to restate who everyone is and the story of this first in some way.
I saw Eclipse, and they did the same mistake. The producer must assume you have either read the books or seen the other two. Harry Potters, however, reference back to the previous films finely. This movie was choppy and unorganized. I think the director must have been pressured in some way, because Michael Bay is better than this. There were many laugh out loud parts, like when you see a grown man in his underwear, a cautious roommate say, "you're laying on my balls", and watching two dogs show their affection for one another. The action was basic, but it wasn't unique. After viewing this numerous times, I now believe it is a Pork Chop…a Decepticon Pork Chop.
Interesting facts: Bumblebee morphs into a different Camaro from the first movie
Megan Fox can't really ride a motorcycle! Someone had to push start her and catch her to stop it.
The scene with "baby booties" was inspired by Michael Bay's own experience.
Filmakers were permitted to destroy 12 trees for the forest scene on Native American Grounds…..in return they planted 6,000 more